Paintings For Offices + Commercial Spaces
Need some dazzling artwork for your office, lobby or commercial business?
Would you like a unique piece of Dan Campbell Art that enhances your business, building or workspace with just the right mix of vibrant color and creativity?
It is a simple process, and there is no obligation until you approve the painting. Just email or call me, and we'll begin the discussion. No request is too small or too large!
No complex contracts! You love the painting, or you don't buy it.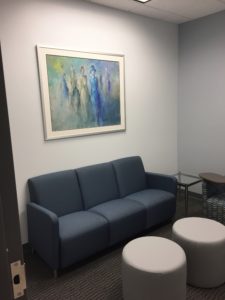 If you're local here in the Raleigh – Durham "Triangle" area, I can come to your location, look at the space, and take photos of your colors and furniture. We can chat about your preferences, and I can price the piece for you right then and there, including delivery and hanging. (If we are corresponding from a longer distance, I'll price the piece within 24 hours.)
Once we agree on the details, I'll go to work in the studio, 4-6 weeks, depending on how many pieces I have in the queue. I'll then present the painting to you, and you can give me immediate feedback. If I need to make a few adjustments, no problem! If you don't like it, no problem! (Again, if we are long distance, I'll email images to you first before shipping the final.) The most important thing to me is that you love the painting!
Your satisfaction is 100% guaranteed.
Also, I'll be quick to tell you if I can't provide the kind of art you want. And if I can't, I likely can point you to other trusted professional artists with different styles.
I can work directly with you or your interior designer to create eye-catching paintings that match your architecture and décor. And these can be customized to a grander size and scale for special projects.
So please give me a call to discuss your commercial art needs. It costs nothing to chat, to see if I can provide what you want.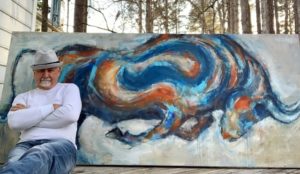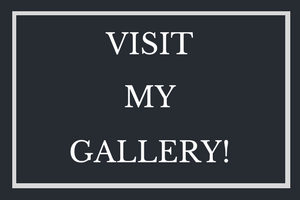 Interested in a one of a kind original painting? Feel free to contact me and we can talk about the details! I deliver locally in Raleigh – Durham and central North Carolina, or can ship anywhere in the world.
Email dancampbell99@gmail.com, call me at 919-538-3539, or simply fill out the form below!
Original art...something you will treasure for a lifetime.
Testimonials From Commercial Clients!
I was in the midst of redoing my office and I knew I wanted a "lighthouse" and I knew I wanted red in my office. I commissioned Dan Campbell and the end result was absolutely fabulous. He was able to capture exactly what I wanted! My artwork by Dan is the spotlight when everyone enters! Thank you so much Dan!
Denise Reinert ' Sentinel Risk Advisors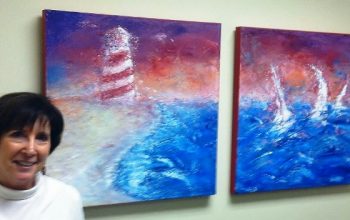 I wanted to let you know how thrilled I was when I came to work this morning and saw my wonderful painting as I walked through the door. Not only did you create an abstract of the Raleigh skyline (since we manage buildings) but you incorporated all my logo colors into the picture. The textures and use of color are amazing. I couldn't be more pleased..
Marie Pierce, President, Resource Property Management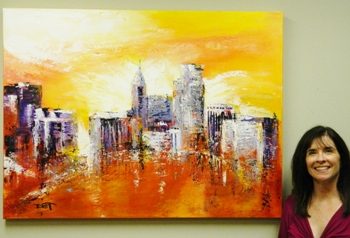 Dan did an amazing painting for my office lobby tieing together the colors of our interior design. Moreover, he created a beautifully creative piece that has a direct correlation to my chiropractic business. I am proud to own "Vitruvious", the anatomical man, a theme adapted from Leonardo da Vinci's famous work.
Dr. Steve Palazzo, Owner, Integrative Chiropractic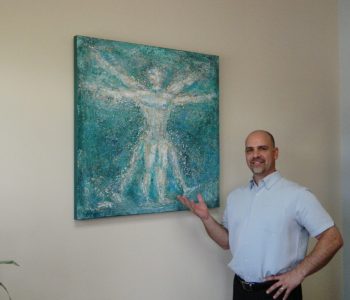 My conference room needed some color and panache so I asked Dan to do something special. After stopping in the office and taking pictures of our existing color scheme, Dan produced an exciting piece that turns the heads of everyone entering our office. I have recommended Dan to many others who want a very special and original work of art.
Paul Lindsay, Owner, Triangle Advisors Group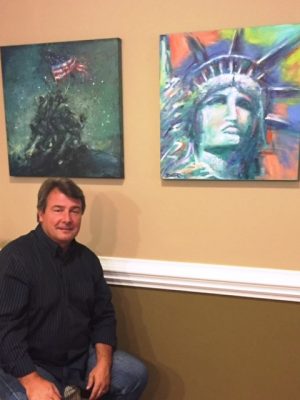 I am so blessed to be the proud owner of a Dan Campbell original painting! Dan is an amazing artist and his work is simply breathtaking. My biggest problem in deciding to buy my painting was that I wanted them ALL! Dan also graciously delivered it and hung it securely on the wall. I can't wait to buy my next beautiful Dan Campbell painting!
Stephanie McDilda, Professional Speaker, Flashpoint International