Check out the latest news & events from Dan Campbell Art.
What an honor to be the juror for the 23rd annual Fine Arts League of Cary juried show in May 2018. 270 entries, 69 wonderful works made the show at the Page-Walker Center in Cary. We have such amazing artists in NC!

What a fun night, March 3rd, 2018, at the 10th annual North Ridge Art Gala! I was one of only 25 featured artists juried in to this fabulous art show.
Delighted that 2 of my paintings, "Walking Through The Clouds" and "True Colors" were selected for the show "Exposed: Nudes in Art 2018" at the Litmus Art Gallery in downtown Raleigh, March-April 2018.
Yay, another magazine cover (December 2017)! Thanks Mary Aylin and Preston Life. 
February 11, 2017…An honor to be a featured artist at the Cary Visual Art 20th Annual Art Ball held at the NC Museum of Art.
I was very honored to paint "Heroes of Freedom" for VET (Veterans Entering Transition), founded by my friend Anne Showalter. It was auctioned at their first annual Gala on May 13, 2016 to benefit our returning heroes as they transition back to civilian life. The famous battle at Iwo Jima in WWII is of course well known by many and special to our family also. My wife's Uncle Charlie Morrow fought in that battle in 1945. We remain deeply thankful for those that have sacrificed so much fighting for our freedom.
Bowtie and Butterfly Gala at the NC Museum of Art on March 3rd, 2016. I was honored by Emerging Women NC as featured artist for my Butterfly Women series of 2015. Find out more about Emerging Women NC at http://www.emergingwomennc.com/. Limited Edition, signed and numbered giclee prints are available of the Butterfly Women series there also.
Thanks Preston Life Magazine, Mary Bowman King and Laura Wall for the terrific press and salute to the arts in your March 2016 issue. Glad to be your cover boy!
My Art-Music Fusion Exhibition was well received on February 26th, 2016. 12 paintings all inspired by music with the musical selections playing in the background. Art for the eyes and ears!
Dec 5-6, I held my first Holiday Art Showcase! We had a wonderful time seeing old friends and new alike. Art continues to be such a wonderful adventure for me, our family and friends!
 Oh what a night at the 19th Annual CVA (Cary Visual Art) Ball, November 20th, 2015! I was the live artist for the evening and had a great time painting "Lady Sings The Blues", a tribute to the incomparable jazz singer, Billie Holiday. The live auction bid was won by Ed and Lisa Grimes of Cary. We danced the night away too and celebrated the impact of art in our local community!
It was such an honor  for me to meet this remarkable woman, Caterri Woodrum, Chief Deputy Director of the NC Museum of Art. She has added my "Butterfly Woman #2" to her personal collection. It was quite surreal delivering this painting and taking photos together at our wonderful museum of art. The expansion in 2010 and the addition of the spectacular west building is not to be missed!  I hope to have a piece hanging inside these glorious halls one day!
My art now hanging in the spectacular modern furniture store, BeyondBlue Interiors, at North Hills in Raleigh. Visit their fabulous team for the latest furniture and accessories and see their website at: http://www.beyondblueinteriors.com/
Honored to have my art showcased at the very unique Eclipse Artisan Boutique in Wilmington NC. Really wonderful boutique gallery! See more at http://www.eclipseartisanboutique.com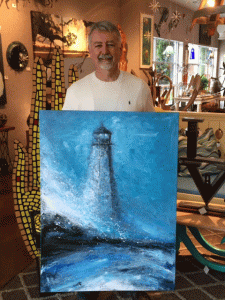 Excited to now have my work at the prestigious Gooch Art Gallery located at the Sonesta Resort in Hilton Head, South Carolina. http://www.goochgallery.com/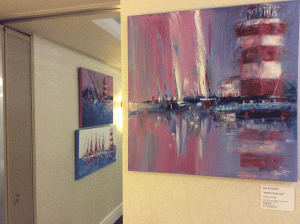 Donated this painting, "Out of the darkness, into the light", in May 2015 to raise money for LLS. (Leukemia & Lymphoma Society). The 10 week campaign was an incredible success raising over $600,000 to find a cure for blood cancers.
To find out more about LLS, see their website at:  http://www.lls.org/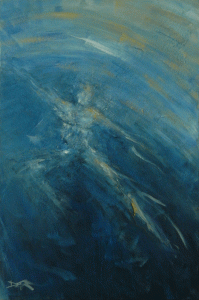 Really cool when your art gets on center stage with TV celebrity and all-around good guy Ty Pennington. Thanks to my pal, interior design expert, Kelli Jordan Stelling for hooking us up at the Raleigh Home Show 2014!
See Kelli's website at: http://kjdesignworks.com/
I had a fantastic exhibit at Manifestationz Art Gallery in downtown Cary and revealed my MJ piece titled "The Dunk"! (It has since been sold.) A number of other pieces were sold during the exhibit. Thanks to Omar Cummings and his team! Keep in touch with their developments at https://www.facebook.com/Manifestationz
I donated this painting Fall 2014 titled "Hope" to Friends of Wake County Guardian Ad Litem who raffled the painting to raise money to make a better life for foster kids. To find out more about how you can help foster kids, see their website at:
Prints remain available at http://fineartamerica.com/featured/hope-dan-campbell.html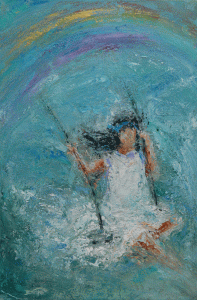 What a show! 150 people showed up at my opening exhibition at Gordon Munro Fine Art Gallery in August 2014.
Fabulous publicity by the local newspapers as renowned photographer, Gordon Munro opened his gallery with yours truly as the inaugural artist!
See article here: http://www.newsobserver.com/news/local/community/cary-news/article10031654.html